| | | |
| --- | --- | --- |
| | OEM - Peripherals - Networking - Gigabit Adapters | |
| | |
| --- | --- |
| TEG-PCISX | 64-bit 1000Base-SX Gigabit Ethernet Adapter with SC Connector |
| | |
| --- | --- |
| | TRENDnet's TEG-PCISX is built to increase system perform-ance by high-level functions. It transmits and receives at the speed of 1000Mbps while continuing to support IEEE 802.3 CSMA/CD local area network. The built-in 64-bit, 33MHz PCI interface by FIFO, avoid the data overflow and comply with IEEE 802.3z Gigabit standards. The Gigabit adapter supports symmetric and asymmetric flow control as defined by IEEE 802.3x. One of the advanced features includes IEEE 802.1Q VLAN tagging and works with any switch that complies with IEEE 802.1Q specifications. The VLANs can increase the efficiency and provide extra security of the network. |
| | |
| --- | --- |
| | Complies with IEEE 802.3 for 10/100Mbps Ethernet and the IEEE 802.3z for 1000Mbps Ethernet. |
| | Complies with PCI v2.1 interface |
| | Operates in a 32 or 64-bit PCI local bus master slot |
| | Supports symmetric and asymmetric flow control as defined by IEEE 802.3x/802.3z. |
| | Supports IEEE 802.1Q VLAN tag insertion, removal, and VLAN packet filtering. |
| | Supports PCI clock speed up to 66Mhz, independent of network clock. |
| | 96KB FIFO buffers on board |
| | Full-duplex mode |
| | Plug and Play |
| | Easy viewing diagnostic LEDs |
| | Multi-mode SC optical fiber connector for network cable connection |
| | 5 Year Warranty |
Standards:

IEEE 802.3z/D3.2 1000Base-SX Gigabit Ethernet standards and IEEE 802.3 Ethernet standards

Data Transfer Rate:

1000Mbps Gigabit Ethernet

Cabling:

Multimode Fiber 50/125 micron-meter, 525 Meter max.; Multimode Fiber 62.5/125 micron-meter, 275 Meter max.

Connector:

850 mm SC fiber optical connector

Driver Support:

Windows 95 NDIS3, Windows 98 NDIS5, Windows NT 4.0 NDIS4, Windows 2000 Beta NDIS5, Linux OS kernel v2.0/2.2, NetWare 4.11, v4.2, and 5.0

Diagnostic LEDs:

Link (green), 1000Mbps (green), FDX (green, full-duplex), TX/RX (green; Transmit/Receive)

Power Consumption:

7.8 W

Dimensions:

164 x 95 mm ( 6.46 x 3.74 inches)

Weight:

107 g (3.8 lbs.)

Temperature:

Operating: 0° to 50° C (32° to 122° F)

Storage: -5° to 55° C (23° to 131° F)

Humidity:

5 % to 95 % non-condensing

Certifications:

FCC Class B, CE, VCCI Class B, C-tick
Performance:

The full-duplex Gigabit adapter brings high bandwidth with 10/100/1000Mbps speeds, which makes more processing power available for the applications.

User Friendliness:

Plug and Play supports all popular network operating systems.

Flexibility:

With IEEE 802.1Q multiple VLAN support, it enables flexible and secure network configuration.

Cost-Effectiveness:

Provides the benefit of Gigabit Ethernet networking with the familiarity of Ethernet that operates in existing 32-bit bus, as well as 64-bit bus.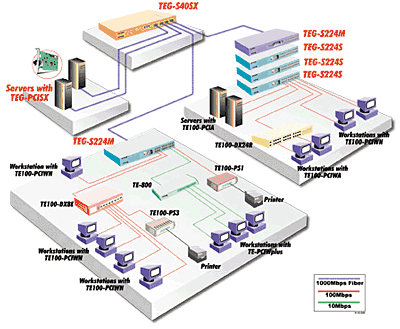 | | | |
| --- | --- | --- |
| | TEG-PCISXplus | 32-Bit PCI 10/100/1000Mbps NWay Copper Gigabit Ethernet Connector |
| | TEG-PCISX | 32/64-Bit PCI 10/100/1000Mbps NWay Copper Gigabit Ethernet Adapter |
| | TEG-S40SX | 9-port 10/100/1000Mbps NWay Copper Gigabit Switch |
| | TEG-S224M | 22-port 10/100Mbps Management Stackable Master Switch with Optional Gigabit Ethernet. |
| | TEG-S224S | 24-port 10/100Mbps Management Stackable Fast Ethernet Slave Switch |
| | TEG-M101F | 1-port 100Base-FX (SC) Module for TEG-S224M and TEG-S224S |
| | TEG-M102FM | 2-port 100Base-FX (MJ-RJ) Module for TEG-S224M and TEG-S224S |
| | TEG-M3S | 3-port SIO Stacking Extension Module forTEG-S224M |
| | TEG-M1G | 1-port 1000Base-SX (SC) Gigabit Ethernet Module for TEG-S224M |
| | TEG-M2G | 2-port 1000Base-SX (SC) Gigabit Ethernet Module for TEG-S224M |