| | | |
| --- | --- | --- |
| | OEM - Peripherals - Networking - Gigabit Adapters | |
| | |
| --- | --- |
| TEG-PCISXplus | 32/64-bit 1000Base-SX Gigabit Ethernet Adapter |
| | |
| --- | --- |
| | TRENDnet's TEG-PCISXplus 32/64-bit Gigabit Ethernet Fiber Adapter is built to increase system performance by high-level functions. This full-duplex Gigabit adapter brings high data transfer rate with 2000Mbps speeds, delivering more bandwidth for your network applications. TRENDnet's TEG-PCISXplus provides the benefit of Gigabit Ethernet networking with the familiarity of Ethernet that operates in existing 32-bit PCI bus, as well as 64-bit PCI bus, making it the perfect choice for greater bandwidth and cost effective solution for high-speed network connectivity. |
| | |
| --- | --- |
| | IEEE 802.3z 1000Base-SX compliant |
| | Support 32/64-Bit PCI Local Bus Master high-speed operation of rev. 2.1/2.2 specification. |
| | Plug and Play Installation |
| | SC Type connector for 62.5/125Ám or 50/125 Ám multi-mode fiber optic cable. |
| | Supports Full-Duplex mode doubles network Data rate to 2000Mbps. |
| | Supports IEEE 802.1q VLAN and IEEE 802.1p QoS. |
| | Built-in 32KB FIFO buffer memory reduces overhead of memory transfer. |
| | 5 Year Warranty |
Standards:

IEEE 802.3z 1000Base-SX Gigabit Ethernet

Protocol:

CSMA/CD

Network Media:

62.5/125um multi-mode fiber optic cable with SC type connector, 220 meters max. 50/125um multi-mode fiber optic cable with SC type connector, 550 meters max.

Host Interface:

32/64-Bit PCI rev. 2.1/2.2

Supported Drivers:

Microsoft Windows 98/Me/2000/NT4.0/XP, Novell Netware Server 5.x, Linux 2.2, 2.4

Diagnostic LEDs:

Link, Activity

Network Data Transfer:

2000Mbps Full-Duplex

Dimensions:

175 x 69 mm (6.9 x 2.7 inches)

Weight:

Approximately 120 g. (4.25 Oz.)

Temperature:

Operating: 0░ ~ 65░ C (32░ ~ 149░ F)

Storage: -10░ ~ 70░ C (14░ ~ 158░ F)

Humidity:

10% - 90% (non-condensing)

Certifications:

FCC Class B, CE Mark B, VCCI-B
Performance:

This full-duplex Gigabit adapter brings high bandwidth with 1000Mbps speed, which makes more bandwidth available for the applications.

User Friendliness:

Plug-n-Play supports all popular network operating systems.

Flexibility:

With IEEE 802.1q multiple VLAN support, it enables flexible and secure network configuration.

Cost-Effectiveness:

Provides the benefit of Gigabit Ethernet networking with the familiarity of Ethernet that operates in existing 32-bit PCI bus, as well as 64-bit PCI bus.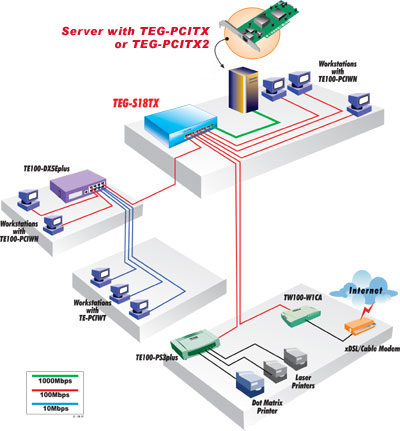 | | | |
| --- | --- | --- |
| | TEG-PCISXplus | 32-Bit PCI 10/100/1000Mbps NWay Copper Gigabit Ethernet Connector |
| | TEG-PCISX | 32/64-Bit PCI 10/100/1000Mbps NWay Copper Gigabit Ethernet Adapter |
| | TEG-S40SX | 9-port 10/100/1000Mbps NWay Copper Gigabit Switch |
| | TEG-S224M | 22-port 10/100Mbps Management Stackable Master Switch with Optional Gigabit Ethernet. |
| | TEG-S224S | 24-port 10/100Mbps Management Stackable Fast Ethernet Slave Switch |
| | TEG-M101F | 1-port 100Base-FX (SC) Module for TEG-S224M and TEG-S224S |
| | TEG-M102FM | 2-port 100Base-FX (MJ-RJ) Module for TEG-S224M and TEG-S224S |
| | TEG-M3S | 3-port SIO Stacking Extension Module forTEG-S224M |
| | TEG-M1G | 1-port 1000Base-SX (SC) Gigabit Ethernet Module for TEG-S224M |
| | TEG-M2G | 2-port 1000Base-SX (SC) Gigabit Ethernet Module for TEG-S224M |