| | | |
| --- | --- | --- |
| | OEM - Peripherals - Networking - Wireless Adapters | |
| | |
| --- | --- |
| TEW-202CF | 11Mbps Wireless PCMCIA Network Card |
| | |
| --- | --- |
| | TRENDnet's TEW-202CF, Wireless CompactFlash Ethernet Adapter is the latest creation for wireless network application for your Pocket PC. It is the simplest and quickest way to connect your PDA to the Local Area Network, Wire-FREE. Designed for Pocket PC and Windows CE-base palm-sized hand-held PC's, TRENDnet's TEW-202CF is compliant with the IEEE 802.11b standard and operates with 2.4GHz Direct Sequence Spread Spectrum (DSSS) transmission technology. The freedom to connect to the network with your PDA has never been so easy without the hassles of wires, cables, or installation! |
| | |
| --- | --- |
| | Low interference and high susceptibility guarantee reliable performance |
| | Delivers data rate up to 11Mbps |
| | Dynamically shifts between 11, 5.5, 2 and 1 Mbps network speed (based on signal strength), for maximum availability and reliability of connection. |
| | Allows users to move between Access Points without resetting their connection reconfiguration. |
| | Antenna is built into the adapter with LED indicating Link status |
| | Uses 2.4 GHz frequency band, which complies with worldwide requirement |
| | Supports Ad-Hoc (peer-to-peer) mode and Infrastructure mode wireless network architecture. |
| | Provides drivers supporting Windows 98/ME/2000/XP/CE and Linux |
| | Ensures great security by providing 64/128-bit Wired Equivalent Privacy (WEP) defined in the IEEE 802.11b standard. |
| | Distance coverage up to 60 meters indoor and up to 250 meters outdoors |
| | 3-year Warranty |
Adapter Type:

CompactFlash Type-II

Standards:

IEEE 802.11b

Data Rate:

11Mbps, 5.5Mbps, 2Mbps, 1Mbps

Module Technique:

Direct Sequence Spread Spectrum (DSSS), CCK, DQPSK, DBPSK

Antenna:

Internal ceramic Antenna

Media Access Protocol:

CSMA/CA with ACK

LED Indicator:

Power, Link

Frequency:

2.4 to 2.4835GHz (Industrial Scientific Medical Band)

Output Power:

15dBm (typical)

Receiving Sensitivity:

10-5 BER @ -81 dbm (11Mbps) min.

Power Consumption:

3.3V, 240mA (typical), 300mA max.

Channels:

11 Channels (US & Canada)

Dimensions:

56 x 43 x 5 mm (2.12 x 1.69 x 0.20 inch)

Weight:

18g (0.65oz.)

Temperature:

Operating Temperature: 0° ~ 55° C (32° ~ 131° F)

Storage Temperature: -20° ~ 65° C (-4° ~ 149° F)

Humidity:

Max. 95% (Non-condensing)

Certification:

FCC, CE
Integration Friendly:

Drivers support most popular Network Operating Systems.

Economical:

Save time, labor, and material for network cable installation.

Flexible:

Creates wireless peer-to-peer network in Ad-Hoc mode or connects to Ethernet LAN in Infrastructure mode using wireless Access Point.

Cost Effective:

Supports IEEE 802.11b standard; connects to any IEEE 802.11b wireless network.

Performance:

Connects at a speed up to 11Mbps, wirelessly!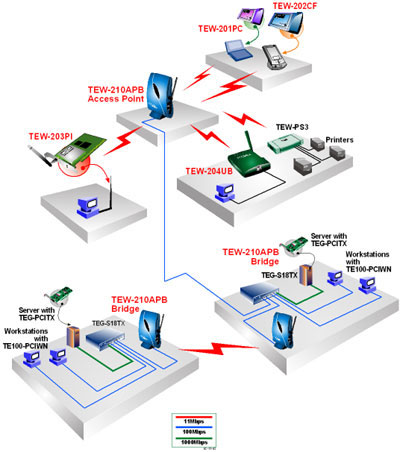 | | | |
| --- | --- | --- |
| | TEW-201PC | 11Mbps Wireless PCMCIA Network Adapter |
| | TEW-202CF | 11Mbps Wireless CompactFlash Network Adapter |
| | TEW-203PI | 11Mbps Wireless PCI Network Adapter |
| | TEW-204UB | 11Mbps Wireless USB Network Adapter |
| | TEW-210APB | 11Mbps Wireless Access Point + Bridge |
| | TEW-211BRP | 11Mbps Wireless Broadband Router + Access Point |
| | TEW-PS3 | 3-port Wireless Ethernet Print Server |
| | TEW-IA04O | 4.0 dBi 2.4GHz ISM Band Omni Directional Antenna (with SMA Connector) |
| | TEW-IA06D | 6.0 dBi 2.4GHz ISM Band Patch Antenna (with SMA Connector) |
| | TEW-OA14D | 14dBi Directional Antenna (outdoor) for IEEE 802.11b 2.4 GHz ISM Band |