| | | |
| --- | --- | --- |
| | OEM - Peripherals - Networking - Print Server | |
| | |
| --- | --- |
| TEW-PS3 | Wireless Ethernet Print Server |
| | |
| --- | --- |
| | TRENDware's TEW-PS3 is a contribution to the fast and changing network technology. This Wireless Ethernet Print Server is designed to share three printers for the whole network environment without the hassle of installing cables or wires. Equipped with three IEEE-1284 compliant 25 pin parallel ports and multi-protocol support, you can set this print server anywhere in your wireless network to serve print jobs. TRENDnet's TEW-PS3 along with TRENDnet's Wireless PC Card (TEW-PC16), Wireless USB LAN Adapter (TEW-USB), and Wireless Access Point (TEW-AP100), you have all you need to simply create a wireless network - with coverage up to 300 meters!! |
| | |
| --- | --- |
| | Equipped with three IEEE-1284 compliant 25 pin parallel ports |
| | DMA channel support for high speed printing of 3 ports simultaneously |
| | Fast 11Mbps LAN connectivity based on IEEE 802.11b wireless high-speed standard. |
| | Supports Ad-hoc and Infrastructure Wireless LAN Modes |
| | Multi-protocol support is ideal for shared printing in mixed-LAN environments |
| | Bi-directional communication allows collection of information for attached printer's status. |
| | Windows based GUI setup program |
| | Latest MIB-II (RFC1213) for SNMP standard management |
| | IP assignment support for DHCP, BOOTP and RARP |
| | Flash memory for easy software upgrade |
| | Distance coverage 35 to100 meters in closed environment; 100 to 300 meters in open environment. |
| | 3 years Warranty |
Printer Ports:

3 IEEE 1284-compliant parallel port

LAN Interface:

IEEE 802.11B Wireless LAN Standard

WLAN Mode:

Ad-hoc or Infrastructure

LAN Data Rate:

11Mbps, 5.5Mbps, 2Mbps, 1Mbps

Supported Network:

IP, IPX, NetBeui, Appletalk

Operating Systems:

Windows/ 95/98/2000/NT, Netware 3.x, 4.x, 5.x (with Native NDS), HP-UX Unix, Sun O.S., Solaris, SCO Unix, AIX, Unixware, Linux, MAC O.S. Appletalk

LEDs:

Power/Tx, Link/Rx, LPT1, LPT2, LPT3

Power:

DC 5V/1.6A

Dimensions:

223.3mm ´ 131.7mm ´ 35mm (8.79 x 5.19 x 1.38 inch)

Weight:

Approx. 460g (16.2 Oz.)

Temperature:

Operating Temperature: 0° - 50° C (32° - 122° F)

Storage Temperature: -25° - 55° C (-13° - 131° F)

Humidity:

5% - 95% (no-condensing)

Certification:

FCC class A; CE class A
Integration Friendly:

Supports IPX, NetBEUI, TCP/IP, and Appletalk protocols; you can easily setup the Print Server in almost every network environment.

Flexible:

Works in Ad-Hoc Wireless LAN mode or in Infrastructure Wireless LAN Mode, the Print Server can be implemented any where in the network.

Cost Effective:

Implementing 802.11b wireless technology, save time and money for laying network cables.

Performance:

Performs high speed printing of 3 ports simultaneously.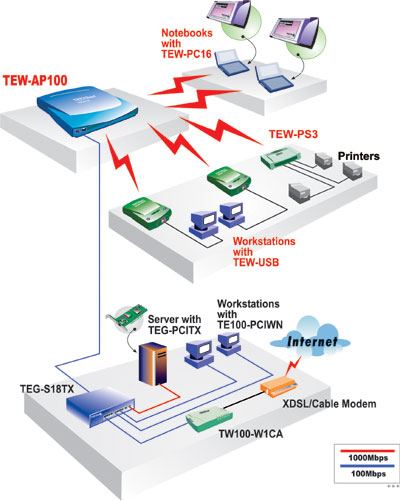 | | | |
| --- | --- | --- |
| | TEW-201PC | 11Mbps Wireless PCMCIA Network Adapter |
| | TEW-202CF | 11Mbps Wireless CompactFlash Network Adapter |
| | TEW-203PI | 11Mbps Wireless PCI Network Adapter |
| | TEW-204UB | 11Mbps Wireless USB Network Adapter |
| | TEW-210APB | 11Mbps Wireless Access Point + Bridge |
| | TEW-211BRP | 11Mbps Wireless Broadband Router + Access Point |
| | TEW-PS3 | 3-port Wireless Ethernet Print Server |
| | TEW-IA04O | 4.0 dBi 2.4GHz ISM Band Omni Directional Antenna (with SMA Connector) |
| | TEW-IA06D | 6.0 dBi 2.4GHz ISM Band Patch Antenna (with SMA Connector) |
| | TEW-OA14D | 14dBi Directional Antenna (outdoor) for IEEE 802.11b 2.4 GHz ISM Band |