| | | |
| --- | --- | --- |
| | OEM - Peripherals - Video - Matrox | |
| | |
| --- | --- |
| Incite Editor 3.0 | The Most Complete Content Creation Platform for Broadcast and Post |
| | |
| --- | --- |
| | Built from the ground up by editors, for editors, Incite Editor delivers fast and efficient NLE tools, an intuitive interface, and extensive realtime audio and video features. In addition to the well-designed basics, you also get multiple realtime FX, advanced multi-layer compositing, and animated titles and graphics – all in a networkable environment based on open file formats, transparent collaborative workflow, and a versatile database architecture. |
Incite Editor's powerful user interface gives you instant access to a rich creative toolset and a variety of high-performance productivity features.

Incite Editor comes in three versions to meet the needs and budget constraints of any facility. All three versions embed advanced media management and task server technology. Advanced media management tools provide instant access to all your local or SAN-based media, so you can play, organize, search, log, and enter metadata for audio, video, graphics, and FX clips. The media management tools are software-based, so you can perform all of these operations, including clip editing, even while digitizing to disk on the same station. Incite task server technology lets you batch render software FX automatically in the background using all available CPU power. With additional software, your entire facility can become a networked render farm.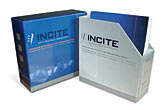 Incite Editor is ideal for single-system users who require industry-proven stability, an extensive NLE toolkit, realtime FX, and an open, scalable solution.

Incite Editor Studio combines the high-powered video editing of Incite Editor with Advanced Audio Tools.

Incite Editor Suite includes all the features of Incite Editor Studio, plus special tools required in broadcast environments, such as support for multi-camera editing, remote offline editing, independent asset management stations, etc.

Advanced Audio Tools include realtime audio FX processing, support for 5.1 surround sound, hot-mixing, a customizable audio mixer interface, multiple mixes and monitors with direct control from the Incite timeline, full-duplex voice over recording, LTC display for window burn-in timecode, OMF audio export, and more.
| | |
| --- | --- |
| • | Fast, efficient, intuitive editing tools |
| • | Edit and log while capturing to disk |
| • | Fully keyframeable realtime 2D and 3D video FX, keying, animated titling and graphics |
| • | Professional audio features – 24-bit/96 KHz realtime audio, full-duplex voice over, 5.1 surround sound |
| • | Full range of editing formats – uncompressed, MJPEG, DV, DVCAM, DVCPRO, DVCPRO50, D9, MPEG-2, (IMX coming soon) |
| • | Live input and hybrid editing |
| • | Background batch rendering of software FX while editing |
| • | Enhanced compositing workflow with timeline export to Adobe After Effects |
| • | Simultaneous, shared access to SAN-based media |
| • | Advanced media management of network-based graphics, titles, and FX libraries |
| • | Realtime export to MPEG-2 for playout and DVD authoring |
| • | Full range of professional I/Os – SDI, 1394, analog component, Y/C, composite, (SDTI coming soon); analog and AES/EBU digital audio |
| • | Professional image quality provided by Matrox DigiSuite MAX video technology |