| | | |
| --- | --- | --- |
| | OEM - Peripherals - Video - Matrox | |
| | |
| --- | --- |
| RTMac | Realtime editing power and professional productivity features for Apple Final Cut Pro |
| | |
| --- | --- |
| | The RTMac/Final Cut Pro solution combines Apple's award-winning editing software with Matrox's realtime performance and productivity features to deliver a creative environment full of advanced tools typically reserved for expensive high-end editing systems. |
More realtime effects than with just software alone
A Matrox RTMac in your Apple Power Mac G4 lets you work with three layers of video and graphics in real time, and instantly create more broadcast-quality effects than you could with just software alone.

On RTMac, push, swap, split and other slide transitions happen in real time. So do edge feathering and drop shadows on effects such as picture-in-picture. Matrox RTMac lets you do more complex effects and more simultaneous realtime operations such as realtime zoom with rotation. Built-in 3D technology and filtering make all your effects look good.

What's more, you can use Matrox RTMac in almost any Power Mac G4 that Apple has ever sold. You get consistent realtime editing performance and full quality across the entire range of supported computers.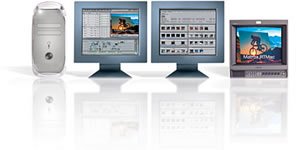 Professional productivity features
With a Matrox RTMac, you don't have to limit yourself to using the Final Cut Pro Canvas window. Simply connect an NTSC or PAL broadcast video monitor to the Matrox RTMac breakout box to instantly view your work at full resolution, full quality, and full frame rate. WYSIWYG (what you see is what you get) support lets you see your work from Adobe After Effects and Discreet Combustion on your video monitor too.

Matrox RTMac complements Apple FireWire support built into Power Mac G4 computers with analog video capture and output. Using the RTMac breakout box, you can digitize source material from analog devices to use in your DV editing projects and record your finished projects to videotape for distribution.


Dual-screen editing is an added benefit of Matrox RTMac. It supports a second computer monitor to increase your Final Cut Pro workspace.
| | |
| --- | --- |
| • | Three-layer realtime editing. |
| • | Realtime broadcast-quality effects and transitions powered by Matrox Flex 3D. |
| • | Native-DV editing |
| • | Professional three-point editing model with "JKL" keyboard-control navigation |
| • | Multiple timeline support for enhanced workflow and project organization |
| • | EDL import/export eases workflow from offline editing to high-end finishing and special effects systems |
| • | Keyframeable Bezier control for precise motion path manipulation of video and graphic elements |
| • | Analog Y/C and composite input/output complements FireWire support built into the Power Mac G4. |
| • | Digital video on console display and simultaneous full-resolution viewing on your NTSC/PAL monitor |
| • | VGA display output drives a second computer monitor for dual-screen editing |
| • | 48 KHz stereo audio input/output genlocked to video |
| • | Sub-frame audio editing to 1/100th of a frame |
| • | OMF audio export lets you use the best audio mixing tools and talent in the business |
| • | WYSIWYG support for Adobe After Effects and Discreet Combustion |
| | |
| --- | --- |
| • | Three-layer realtime editing - work with two video layers and one graphics layer OR two graphics layers and one video layer simultaneously. |
| • | Linear alpha keying - overlay titles, logos, and graphics on video in realtime. |
| • | 4:3 and 16:9 support - edit in standard or wide screen format. |
| • | Integrated compositing tools with unlimited layering. |
| • | Support for hundreds of industry-standard After Effects plug-ins. |
| • | Fast, efficient, professional editing tools including 3-point editing, match frame, trim-on-the-fly and multitrack trimming. |
| • | Pixιlan Software's OrganicFX Lite provides a selection of unique transitions. |
Broadcast-quality effects powered by Matrox Flex 3D
•
Realtime transitions - apply a cross dissolve, wipe, slide, or iris effect between two video layers or a video layer and a graphics layer, or two graphics layers.
•
Simultaneous realtime motion effects - use practically any Final Cut Pro keyframeable motion effect on a video or graphics layer including scaling, rotation, position, cropping, distortion, drop shadow, and opacity.
Versatile capture and output
•
Native DV support - use Final Cut Pro and your G4 FireWire ports to bring in your source material and export back to DV tape without transcoding.
•
Y/C (S-Video) and composite video capture/output - digitize video to DV from analog sources to mix with your native DV sources. Record your finished program to tape using any standard VHS or S-VHS VCR.
•
WYSIWYG support for compositing applications - see your work directly on an NTSC or PAL video monitor from within Adobe After Effects and Discreet Combustion to ensure proper 4:3 or 16:9 aspect ratio and check for exact color temperature, safe-title area, and interlacing artifacts.
•
48 kHz unbalanced stereo RCA audio capture/ output - digitize audio while maintaining perfect sync with video.
•
iDVD/DVD Studio Pro compatible - use Final Cut Pro to export your projects for use with Apple's DVD authoring solutions.
General
PCI interface
RTMac 3/4 size PCI codec/display card
Regulatory compliance
FCC-B and CE-B compliant


Video Codec
Multi-format
mini DV, DV, DVCAM
(NTSC 4:1:1 and PAL 4:2:0)


Video Features
Inputs
composite video (CVBS)
RCA jack S-video (Y/C), mini-DIN
Outputs
composite video (CVBS)
RCA jack S-video (Y/C), mini-DIN
Video formats
ITU-R 601 YUV 4:2:2
NTSC 720x480 at 29.97 frames/sec
PAL 720x576 at 25 frames/sec
4:3 and 16:9 aspect ratios
Video overlay
programmable NTSC and PAL video-in-a-window support on console at 30/25 images per second


Audio Features
Genlock to video
audio clock locked to video clock for perfect sync
Analog audio I/O
unbalanced stereo I/O (1 pair RCA in, 1 pair RCA out)
Sampling
16 bit, 48 kHz, 128X oversampling


VGA display
Output
standard 15 pin VGA connector