Polywell's commitment to social and environmental responsibility
Polywell recognizes that as a member of society and the environment, we are obligated to take responsibility for the impact that we have towards them.
As such, we have implemented certain procedures and policies to ensure that we conduct business in a socially and environmentally accountable fashion.
We are also proactively seeking similar cooperation and commitment from our vendors and suppliers, in the hope that we become a catalyst in our supply chain for socially responsible and accountable business practices.

The following is just an outline of some of the policies and activities that Polywell commits itself to: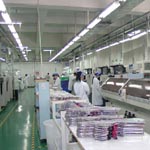 - Compliance: Making sure that all supplies and materials used at our facilities meet or exceed government regulations for energy efficiency and/or environmental impact, and that we comply with all environmental protection laws and regulations in all our corporate activities
- Conservation: Tracking the usage of resources such as water and energy at our facilities
- Commitment: Making sure that these policies and the philosophy behind them are understood and agreed upon by our employees and suppliers.





Some images of our conservation efforts in action
Toner Recycling (1)
Energy Conservation Notice (1)
POLICIES ON ENERGY CONSERVATION, SUSTAINABILITY, RECYCLING, AND CODE OF CONDUCT

(in Word format, last updated 06/22/2017)
Report on progress of voluntary environmental goals
| | | |
| --- | --- | --- |
| DATE | TOPIC | RESULTS |
| 2/1/2016 | Policy Activation | Confirmed voluntary energy conservation plan in effect |
| FY2016 | Year-End Review | As of 2/1/2017, we have met our CO2 emissions reduction goal for FY2016 (See "Polywell Energy Policy and CO2 Emissions Report" above) |
| | Penalties/Fines | No regulatory penalties / fines assessed in FY2016 in any area or category |
| FY2017 | Year-End Review | TBA |
| | Penalties/Fines | TBA |
| FY2018 | Year-End Review | TBA |
| | Penalties/Fines | TBA |
| FY2019 | Year-End Review | TBA |
| | Penalties/Fines | TBA |
| FY2020 (Goal) | Year-End Review | TBA |
| | Penalties/Fines | TBA |