Polywell provides development and manufacturing services to OEM customers as well as cloud network consulting and design support for government, education, corporate and small business.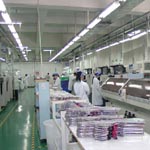 We specialize in E-Commerce for Internet, Intranet and Extranet with custom configurations across Oracle®, Intel® and AMD® platforms. Our diverse product range includes high-end RISC/PC products, Cloud/Virtual PC/Servers/Storage, We also build products specialized for Digital Signage, Kiosk, POS, Set top box, Home Entertainment, Digital Surveillance, IP-PBX, Network Appliance, Medical Equipment, Content Creation and CAD/CAM Graphics systems.

Polywell directly serves government and large corporate customers as well as resellers who work with small businesses that need application support.

Internationally, we have a network of value-added reseller partners who bundle Polywell computers with their own solution products and services. We provide our partners with marketing strategies and technical support.

Polywell also provide product development, prototype service with our engineering resource through our US and Asia hardware manufacture and Linux software development team. We provide contract manufacture service for chassis, motherboard, add-on board and complete systems.