NetDisk 1004SA
(NAS-Network Attached Storage)


Starts at $1650

18" deep 1U rackmount network storage, four hot-pluggable serial ATA (SATA) disks, Integrated backup manager.
This allows other Server or PCs to map this storage as network drive through Gigabit or 100Mbit Ethernet. It has RAID-5 SATA Storage for up to 4 x 500GB HD.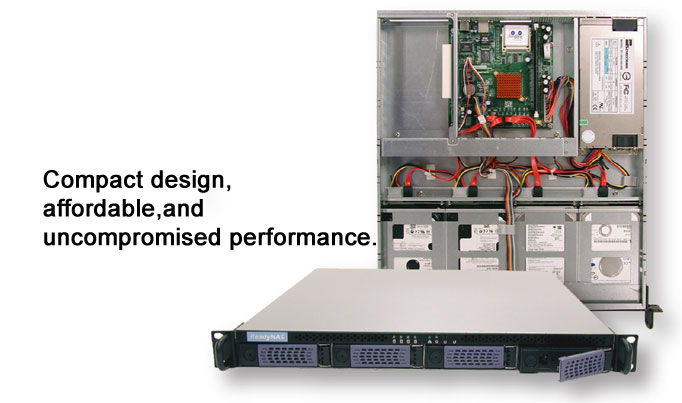 Highlight

| | |
| --- | --- |
| | 32-bit RISC Network Storage Processor |
| | 512MB memory |
| | Windows,Mac,UNIX,and Linux systems |
| | Hardware RAID 0, 1, and 5 |
| | 4 Hot-plug SATA disks |
| | Gigabit Ethernet |
| | Wireless networking ready |
| | DHCP and static IP support |

| | |
| --- | --- |
| | SNMP Support |
| | Two USB 2.0 ports |
| | Built-in print server |
| | Integrated enclosure and UPS monitoring |
| | Convenient two-click online updates |
| | Support browser based interface |
| | improved reliability and serviceability |
| | 240W Power Supply with PFC |
| | | |
| --- | --- | --- |
| | Specifications | |
| | |
| --- | --- |
| | RISC Network Storage Processor(NSP) |
| | Four hot swappable S-ATA drive support |
| | 10/100/1000 Mb Ethernet interface |
| | Two USB2.0 ports |
| | RAIDiator OS |
| | |
| --- | --- |
| | RAID Level 0/1/5 |
| | Standby Hot-spare |
| | Background Sync and Smart Sync Resume |
| | Life-support Mode |
| | |
| --- | --- |
| | Gigabit interface |
| | 802.11g via PCI option |
| | Automatic IP assignment via DHCP |
| | Static IP assignment |
| | DHCP server mode |
| | |
| --- | --- |
| | Three Securith Levels supported(Share,User,and Domain/ADS) |
| | Windows File and Folder Access Control List(ACL) |
| | Secure Socket Layer(SSL) |
| | User access tracking |
| | Encrypted Network Logins |
| | |
| --- | --- |
| | RAIDar Discovery and Monitoring Agent |
| | FrontView Setup Wizard and Advanced Control |
| | Enclosure Monitor |
| | Email Alerts |
| | Integrated Update Agent |
| | SNMP Monitoring and Traps |
| | UPnP |
| | Print queue management |
| | |
| --- | --- |
| | Full and incremental backups |
| | Supports backup from HTTP,FTP,NFS,CIFS/SMB,RSYNC,USB disk,and NAS shares |
| | Supports backup to NFS,CIFS/SMB,RSYNC,USB disk,and NAS shares |
| | Supports syncing between multiple NAS devices |
| | Backup USB disk accessible as a share |
| | Full backup file logs |
| | |
| --- | --- |
| | Form factor:1U Rackmount |
| | Dimensions:Height:1.7"(43.5mm),Width:16.9"(430mm),Depth:18.5"(470mm) |
| | Weight:19 pounds(8.6kg)(Without HDD) |