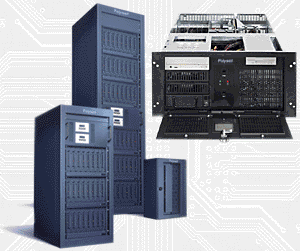 RackServers
Polywell offers special services for the corporate client who may need to purchase products that are not covered by a standard contract. We offer a high-end IT product line with custom configurations to meet the needs of a small or medium corporate project. We are very good at working with small groups that operate inside of a larger corporation. We can be flexible and efficient while we uphold our commitment to excellent customer service and customer support.


We provide you with hardware within your budget, while we develop Enterprise Scale Server Systems, Departmental Servers, Work group Servers, or Workstations. Polywell maintains multi-vendor support and provides an open architecture solution to our clients. The open architecture we use allows our customers to optimize contracts under budget constraints. We offer both Polywell branded and other branded products. We provide
integration services for Sun, Intel, Windows, FreeBSD and Linux at a competitive price.

Over the years since 1987 we have developed a working relationship with many first tier technology businesses including but not limited to IBM, HP, Cisco, Broadcom, Intel, AMD, Nvidia, LSI, Seagate, WD, Samsung, Microsoft, RedHat, Novell and Sun MicroSystems.